Alternate title: I invented a recipe…and it worked!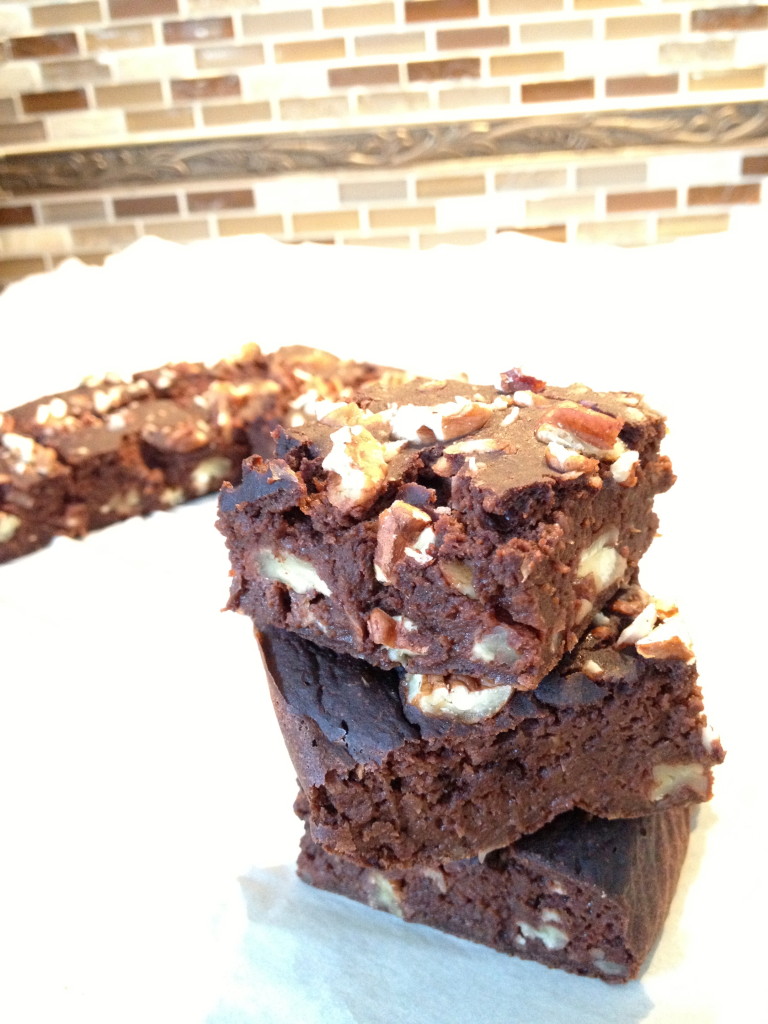 I had lunch and had just settled in for a productive day of Sunday studying, when I was hit with an intense chocolate craving. So, naturally, the self-discipline portion of my brain kicked in to encourage me to power through, reading about health program implementation instead of dreaming up decadent creations that I could be baking. And it worked. For a little while.
Eventually, (and by eventually, I mean about 3 minutes into my readings), I decided to succumb to the temptation, reminding myself that it's healthy to take a study break periodically and do something creative. Even if, well, the studying hadn't actually occurred yet.
I knew that I wanted to make something involving chocolate that was still healthy. Something that my brain would think of as dessert, but that my body would see as a hearty afternoon pick-me-up. That way, I could eat the leftovers all week long for well-balanced, nutritious school snacking (if of course, any leftovers remained, which they didn't).
So I got to searching the web for the ideal recipe. But I couldn't pin down any that spoke to me. Many claimed to be healthy by including pureed beans, but went on to add cups on cups of sugar. That's when the tiny seed of a super-crazy-idea was planted in my brain: I could invent my own recipe. I'm the person who changes a recipe by a quarter teaspoon and renders it inedible to a hungry bear, but maybe it was all the health program planning I've been doing lately, because some part of me was actually ambitious enough to consider taking on this feat. I had made brownies of a similar sort in the past, so I had a general idea of what needed to be included: something to hold it together, something to sweeten etc….and this is what I did:
(And it actually worked! And it's actually healthy! And it actually DOES taste good, trust me.)
Ingredients:
– 1 cup canned mixed beans (or chickpeas or black beans)
– 1 very ripe banana
– 1 individual serving container of applesauce
– 1/2 cup coffee (NOTE: the coffee gives the brownies a rich flavour but will reduce the sweetness, so if you're interested in a sweeter brownie and don't want to add more sweeteners, I would suggest omitting the coffee and replacing with milk)
– 1/3 cup cocoa powder
– 1/3 cup whole wheat flour
– 1 teaspoon natural vanilla extract
– 1 teaspoon baking powder
– 1/2 teaspoon baking soda
– 1/4 cup honey
– 1 egg
– 1/3 cup chopped pecans, plus extra for sprinkling on top (or walnuts, or chocolate chips if you want something richer!)
1) Blend the beans, banana, applesauce, coffee (or milk) together in a food processor/blender/magic bullet until smooth
2) Mix in the remaining ingredients
3) Pour into a brownie dish lined with parchment paper, sprinkle with chopped pecans
3) Bake at 350C for approximately 25 minutes or until toothpick inserted in centre comes out relatively dry