The spiralizer goes far beyond making just pasta-type dishes, but who would have thought it could make such things as pizza!
I love the idea of making homemade pizza, right down to the crust. But all that measuring and mixing and kneading and rising is a little too cumbersome for me. This spiralized potato pizza crust, on the other hand, can literally be as simple as two ingredients. The added bonus: it's completely flourless!
Ingredients for two personal pizzas:
– 2 potatoes
– 2 eggs
– olive oil
– 2 tbsp ground flax seed (optional)
– desired spices (I used cumin and marjoram – also optional)
– desired pizza toppings
Directions:
1) Spiralize both potatoes
2) Cook spiralized potatoes in a saucepan with 1 tbsp of olive oil, over medium heat, until slightly softened
3) In a bowl, mix together potato noodles with two eggs, flax seed, and desired spices
4) Press half of the potato mixture firmly into a pie tin, then quickly inverse the tin to dump the crust onto a greased cookie sheet (Note: don't worry if the crust doesn't hold together perfectly upon flipping, it can be remoulded into a circle using a fork); repeat for second pizza crust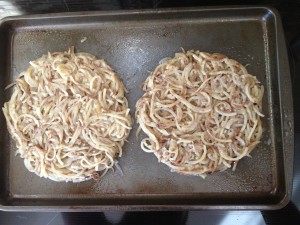 5) Bake crusts at 350F until golden brown and crispy; approximately 10 minutes. In the meantime, slice and prepare pizza toppings
6) Remove crusts from oven, top with desired pizza toppings, and return to oven to bake for an additional 10 minutes
7) Slice with a pizza cutter and enjoy your breadless, flourless, veggie-crust pizza!